Explore, Expand, Create & Connect
Join Treasure, Keshava & The Space Family in
Magical, Mystical Mount Shasta for
dedication to YOU and your Journey of Awakening.
Hello dear friend! We are so excited to offer this years retreat at the potent healing energetic vortex of Mount Shasta!
Mount Shasta will eventually call to you when you find yourself on the journey of Awakening and we are so excited to offer this opportunity for our beautiful community. Treasure and Keshava are partnering along with some special guests from our Space Family to hold space with you in this magical destination to support your own healing and remembering.
The call has been clear and our world is in a place where each one of us more than ever is beckoned to remember the power that we hold within our own hearts and the capacity of our beautiful minds to BE the CHANGE that is needed. Time away from it ALL in RETREAT is the very best way to either deepen the work that you have already begun or to step into this part of your journey in a most profound way.
A retreat with a group of like-hearted sisters & brothers seeing and experiencing self in an expanded and enlightened way will forever change the course of your own life. This is an opportunity to come together and commune, share, explore, breakthrough, hold space, see & be seen.
We utilize ancient practices in ceremonial circles as well as tapping into and exploring the deeper realms of consciousness using breath and sound to dive within connecting Self with Source in ways you may have yet to experience. We fully surrender as a collective and allow ourselves to be guided as we ALL continue to grow in awareness and remembering. We will serve one another as conduits for holding expanded space with the support of Mother Earth in ways we have yet to fully understand. If this speaks to your heart, this retreat is definitely for YOU!
We will immerse ourselves in the healing energy of Divine Feminine & Masculine sharing in practice and ceremony as well as adventure. In addition to the time together as a group there will be plenty of private time for you to integrate and explore with Spirit on your own as we utilize the power of Silence throughout the property.
​When we step more fully into this remembering our lives begin to flow in a way that creates more and more ease and grace. Each time that we say YES to ourselves in a way that gives SPACE to see and remember within our own heart we step closer and closer to this being our full time reality. A reality of peace, surrender, grace and love for ourselves, humanity, our earth and our Universe.
​This retreat center was certainly Divinely Guided and is the most perfect way to experience such a magical destination; immersed with Mother Gaia. This 10 acre sanctuary is on the sacred land of the Karuk and Shasta tribes. The flowing creek hosts a rare convergence of purifying red and white minerals symbolizing the union of the masculine and feminine energies within each of us.
The intention and spiritual awareness that has developed this special place is rare with every detail created to support your personal journey. The stewards of this beautiful place have connected the unique energy points on the land, each offering different healing potential. These points become Hestia's "chakra walk" and allow guests to connect deeply with the land and themselves to guide them on their personal journeys. View the Chakra Walk Map HERE.
Search within your own heart for the guidance you require and when you feel the YES step forward in faith for yourself. No one can do this for you, it is these moments that raise you up beyond the mundane and introduce you to the mystical, magical, loving Universe. There is so much to be seen, felt and experienced in this world when you release attachments to old and outdated belief systems, allowing Space for YOU to be YOU. It is through practice and dedicated times for spiritual discovery where you expand into new realms and are completely changed forever.
​We look forward to the opportunity to walk beside you in this part of your journey.
June 4-9, 2024
Cost of the retreat includes lodging, all meals, vegetarian options only, daily yoga or qigong, powerful ceremonial circles, divine connection and one on one time with Treasure or Keshava to assist in integrating your journey. There will also be opportunities for body work & astrological guidance for an additional cost.
Cost of retreat DOES NOT include transportation to the Retreat Center.
Closest airports are Redding, CA or Medford, OR. Travel recommendations will be sent upon registration.
If you would like to discuss financial arrangement not listed or have any additional questions please contact hello@thespaceaz.org. Retreat space may be transferred if applicable. No cash refunds given for any reason from The Space. If you must cancel and are unable to transfer your spot to another funds will be returned in the form of a credit with The Space to be used for future retreat, workshops or 1:1 work. Cancellations made within 30 days of retreat start date are non-refundable. Payment Plan Option must be paid in full 2 weeks prior to retreat.
Mongolian Yurt
1 Queen Bed & 2 Twins Available in this Shared Space – Steps away from communal outdoor bathroom with shower, toilet and sink
​This 22 ft spaceship temple is a sacred, cosmic space for inner expression, dreaming, visioning, connection with your spirit guides! Experience the connection between heaven and earth with the intricate paintings around the dome of the yurt. Each yurt is uniquely attuned to support deep healing with a particular chakra focus.
CREEKSIDE ECO-CABIN
Only Option for Private indoor accommodations with in-suite bathroom. Queen Bed downstairs with optional twin bed in loft area for additional guest.
Feel your flow with this private cabin nestled in the woods by our sacred creek. Work with the water flow energy to cleanse, purify and move through your emotions. Enjoy the tranquility of camping with the comforts of this fully-equipped eco-cabin.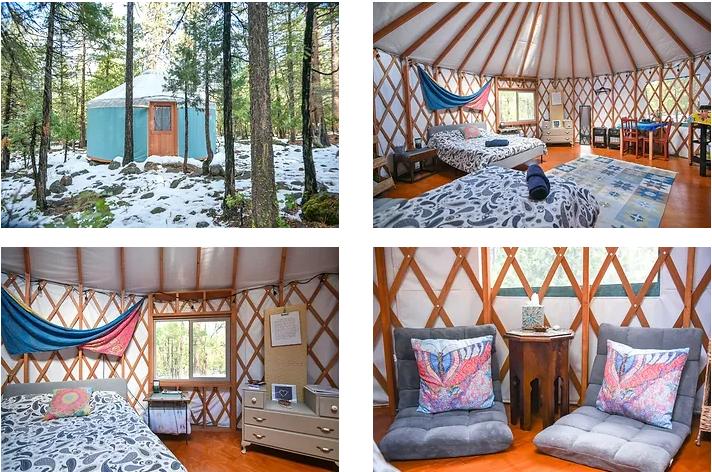 ORION'S BELT YURT
One Full Bed and 2 Twins available in this shared spaced.
Connect with the oceanic energy of the elements combined with galactic, cosmic inspiration! This yurt is set behind our 3 chakra of the land and is a bit more private (which also means just a minute walk more to the communal bathroom!)
CEDARSONG YURT
Two Full Beds & One Twin Bed available for this shared space Steps away from communal outdoor bathroom with shower, toilet and sink.​
Fall deeply into quiet contemplation and stillness among the enchanting trees with this grounding, centering yurt. The height of this yurt makes it feel spacious with the beautiful skylight dome offering amazing nighttime views of the moon and stars. Each yurt is uniquely attuned to support deep healing with a particular chakra focus.
IRIS YURT
One Full Bed and Two Twins available in this shared space Steps away from our new communal outdoor bathroom with shower, toilet and sink.
​Expand and open your heart with a deep sense of joy and love in this heart chakra-inspired space. The height of this yurt makes it feel spacious with the beautiful skylight dome offering amazing nighttime views of the moon and stars. Each yurt is uniquely attuned to support deep healing with a particular chakra focus.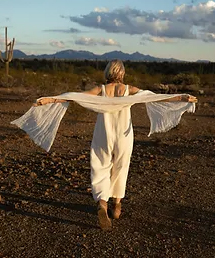 Treasure Milinovich is the Founder of The Space. She brings over 20 years as a Yoga, Meditation and Energetic Practitioner. Treasure has spent a lifetime in the pursuit and understanding of her own awakening, which has led her to facilitate holding space for others in a way that allows their own light to shine forth and a deeper understanding of Self to be realized. Treasure fully surrenders into the moment with Spirit allowing for a portal of love to be present while in session and ceremony.
Keshava McLaughlin is a highly experienced practitioner specializing in healing support through meditation, sound, and energy techniques. With a profound understanding of holistic well-being, he is dedicated to guiding individuals on their journey to inner peace and balance. His unique approach combines ancient wisdom with modern practices, creating a transformative experience for each client. Through compassionate care and a nurturing presence, Keshava empowers others to unlock their true potential and achieve optimal mental, emotional, and spiritual harmony.
Jen Chaney is an advanced Reiki practitioner, sound healer, and yoga teacher on a journey of self-discovery, growth, and awakening. Since she was young, she's had a deep connection to angels and uses this to help guide and assist her in her healing work. Each session is intuitively guided as she works with her spiritual guides to help others remember their own True Self and healing abilities. Jen brings a unique approach into her Intuitive Body Work sessions including Reflexology and Ayurvedic Indian Head Massage along with Reiki.
Rachelle Rizzi is an Intuitive Astrologer who helps you connect with your life purpose, gives you a more deep understanding of who you are, and helps with uncovering and overcoming personal challenging patterns, and limiting beliefs so you can step into your true potential. Rachelle is passionate about awakening the gifts of the soul through shadow work. Working through her own shadows has been the key to creating healing and transformation in her life. Her vision is the new paradigm to conscious growth and multidimensional realignment for greater attunement toward soul work. Her wish is to help you discover your own medicine by using the ancient and sacred practice of astrology.